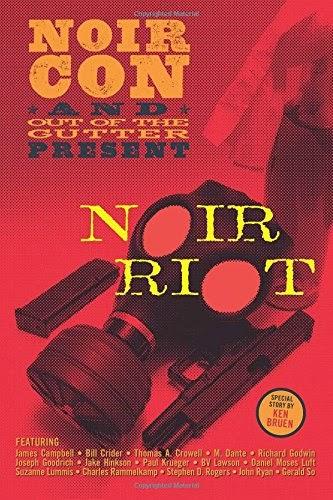 Noir Riot: Presented by NoirCon and Out of the Gutter
Edited by Lou Boxer, Cullen Gallagher, and Mathew Louis
Published September 17, 2014 by Out of the Gutter
ISBN 9780692296608 (paperback)
NoirCon and Out of the Gutter bring you 23 thrilling, unrestrained stories and poems of 21st century desperation and destitution. These tales are sure to shake you out of your complacency, warp your mind and remind you that you, too, are doomed.
No one is safe from the Noir Riot!
Authors include Ken Bruen, James Campbell, Bill Crider, Thomas A. Crowell, Richard Godwin and many more!
Sometimes funny, sometimes terrifying, Noir Riot is the companion to, and official publication of, Noir Con, the premier East Coast crime fiction conference.
Features Paul Krueger's short story "One-Step's Last Meal."
Book description courtesy Barnes & Noble.
Get notified of events and new releases!